Current Exhibitions
Christine Neill: Invasive, Endangered, Beneficial
November 14 - December 31, 2019
At Goya Contemporary
3000 Chestnut Avenue
Mill Center, Studio 214


Baltimore, Maryland 21211




Phone: (410) 366-2001


Amy Raehse, Director

Reception November 14, 5:30 - 7:30 pm

The artwork in this exhibition demonstrate the artist's profound, lifelong fascination with biological and natural worlds. In them, she notes intersections where environmental and anthropological spheres meet. This body of work celebrates the intricacies of thriving ecosystems, yet simultaneously laments invasive organisms as well as threatened species. Such dichotomies, in nature as in art, bind us together as living entities in, on, and of the earth.
---
Current Exhibitions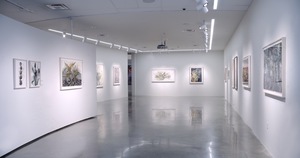 Observations from the Valley Floor, November 9 - December 15, 2019
Katzen Museum at American University
4400 Massachusetts Ave NW, Washington, DC 20016
Phone: (202) 855-1300
Jack Rasmussen, Director

Exhibition Reception: Saturday, November 9, 6-9pm.

Christine Neill's paintings are visual explorations of the natural world which combine her two main interests: biology and art. Examinations of plant and occasionally insect life are captured in intimate, intricately drawn, painted, printed, and constructed views of the environment seen at ground level, as if from the point of view of the animals and insects that inhabit the spaces. She is particularly attuned to the biological cycle of plants and insects, opting for these subjects over other species, including people. Yet, humanity is indirectly the subject of her work, or rather, humanity's environmental impact on the planet.

Stating that her work "notes intersections where environmental and anthropological worlds meet," Neill's art investigates a world that most people pass through without noticing the life forces contained within. Neill captures moments in time happening adjacent to us every day, but which go ignored.

Climate change and the earth's response to environmental threats inform the artist's practice. Far from being purely documentary, Neill closely studies her subjects both outdoors and in her studio. Her work crosses between painting and printed image, reality and fantastical, but what remains constant are the relationship demonstrated between humans, the environment and natural lifecycles.

John Muir wrote "Most people are on the world, not in it…"Neill's works puts us firmly in the world.